Below are resources, quotes, and ideas that align with my interests and exemplify the kind of educator I hope to be.
In the past year, I have worked on multiple inquiry projects that involve diversity and inclusion. I want my future classrooms to be an empathetic place where everyone feels welcome, respected and celebrates each others similarities and differences.
"A good book is a mirror or a window to the rest of the world. They show children things that they may not experience themselves"
-Margriet Ruurs
Inquiry and project-based learning are educational approaches that I am extremely interested in and want to learn more about!
Outdoor Classroom at Prospect Lake Elementary
Outdoor and experiential learning is a pedagogical method that I believe is important and want to implement into my future teachings. I had the opportunity to work with a mentor teacher last term at Prospect Lake Elementary and here is their outdoor classroom space I was able to participate in. Bonus: there was a salmon spawning stream near by!!

Books I am Currently Interested in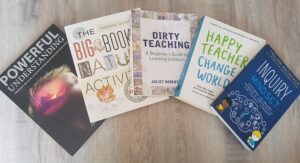 Websites I Appreciate
Fred Roger's Educators Neighborhood
Adrienne Gear- Reading and Writing Power